a. Your Item Description : 2001 Focus ZX3 Turbocharged 5speed
b. Your Location : Allendale, Michigan
c. Your Asking Price : $2500
e. Person placing ad : Jeff Burton
f. Contact Information : 616-648-9574
Its been a long time since I posted on here. Looking to sell my 01 ZX3. I've put a ton of time and money into this car over the years but I don't have the drive to finish the car up with a kid on the way and fixing my house. Id also like some spare cash to start working on my WRX instead. The body has 129,000 miles on it and has been garage stored for most of the winters that I have owned it. I've owned the car for 14 years, it was my first car and after I did the turbo install I always had a beater/dd to keep this one nice.
When I was tuning the last build after I built the block Tom and I were bringing the turbo up to our full boost and he started to see fuel fall off, we replaced the fuel pump and air filter and then started getting knock. The car runs, it just pulls so much timing around 3.5k when WOT. I had it to a performance shop look to see if there was anything mechanically causing the knock and they couldn't find anything. At this point in time I believe it is tune related.
The transmission also has a worn 5/R syncro. I had it replaced when I had Terry Haines rebuild the transmission and then didn't learn and did too many 2-5 gear shifts and wore it down again. You can still shift into 5th I just don't try to slam it into gear. I have the keyed tower mod to the MTX75 as well as a quaife differential installed. The diff is a huge improvement to the transmission.
My plans were to get the cold side and intake piping redone. I have the 3" maf tube to change over to a blow through setup as well as the MAFia. I was hoping that when I did that I could get the tune right this time. This has green top injectors so you might need to upgrade them to hit my goal of 300-350 whp. The boost a pump was an in case purchase that I never had to install. I will include the SCT tuner that you need to install tunes and also has the factory tune on it still.
The AC doesn't work. It still has everything installed but I put a hole in the condenser years ago when I was installing the intercooler. I replaced the condenser but never got the system checked so I wouldnt be very hopeful for what is installed. Also as typical with the LED hatch taillight, the cruise stopped working.
Also FYI, this does not have a CAT so if you think you can pass emissions... yeah good luck. My state doesn't have emissions so it was never a problem for me.
Mod list:
Exterior:
-Clear Corners
-SVT Rear bumper
-Roush front and side skirts
-mach hids
-Ghia grill
-RS spoiler with LED brake bar.
-Hatch and rear 2 windows Tinted I think 5%
-XXR 522 17x8 wheels
-New summer tires are being put on since the ones on are splitting.
Performance:
-FocusSport Front and Rear Stress Bars (currently rear is only one installed)
-2.5" Dp to Flex 3" mandril Exhaust after
-SVT Suspension
-All 3 engine mounts are CFM poly mounts
-Stg 4 clutch+aluminum flywheel
-Focus Central 65mm Throttle Body
-custom turbo setup (Garrett GT2871R T3 .63 A/R)
-built motor with Eagle hbeams and Probe 9.0:1 pistons (less than 20k on it)
-Quaife Diff
-Battery relocated to trunk
-SVT Rear discs
Focus Parts not installed:
-CFM 3" maf tube
-Boost a pump
-Diablosport MAFia
-Shop Manuals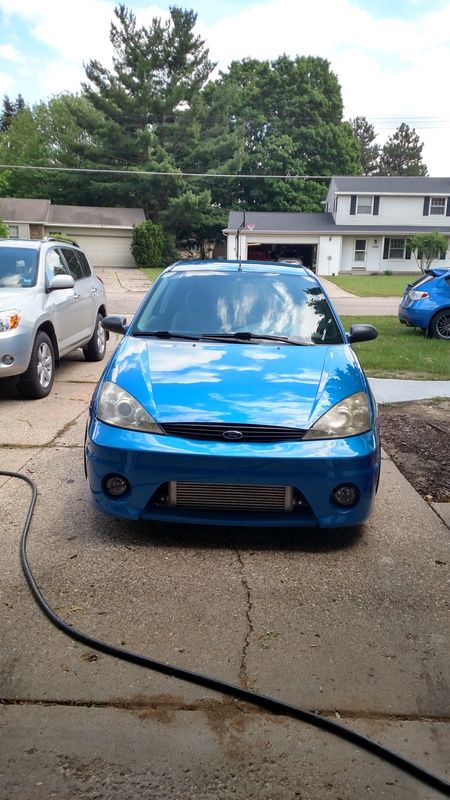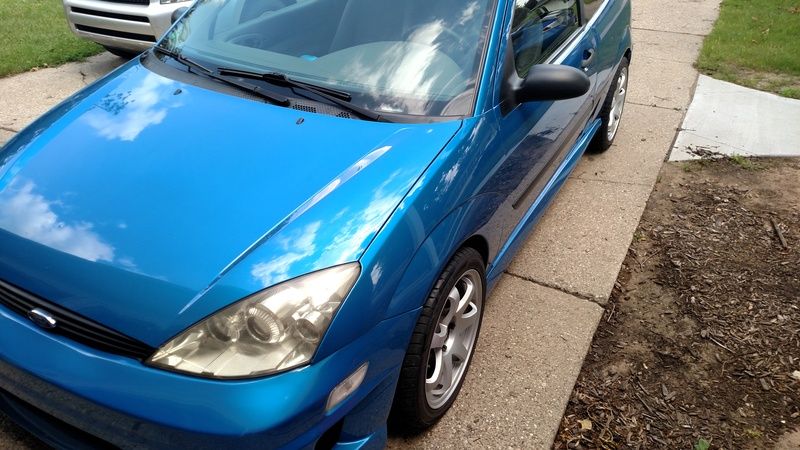 I'm pretty sure I'm missing something...