Since Focaljet is mostly dead, I figured I would post up a few pictures of my new to me 02 green ZX3
to help bring some life back into the site. (Yeah right. :lol
I bought this car in the spring of 2014 after
selling a Ford ranger I had been driving around in for a month. Wasn't feeling the truck vibe and wanted
to get back into a ZX3 like my old yellow car. Found her on craigslist up in Minnesota. My brother and
I drove up there, I looked her over, liked what I saw, and bought her from an old Army veteran for $2600.
Both of the front springs were broke, the tires were shot, the drives door handle mechanism needed
to be replaced and she needed to be cleaned up inside and out BADLY. But this car was amazingly clean overall
and especially underneath for being a Minnesota car with 111700 miles. There is virtually no rust on this car and by rust I
mean rot through. She reminds me in so many ways of my 00 yellow ZX3. (Hence the title of this thread.) The only
options on this car are cruise control and A/C. Much like my yellow car only I now have cruise control instead of keyless
entry. Besides fixing the things that were wrong with her, I didn't really do much with the car through out 2014. I
just put a 2.25 flex pipe and 2.5 inch exhaust from Mandrel Exhaust Systems (Trubendz) on her. Throughout 2015
however is when she received some tasteful mods. Here is the full list:
Car
2002 Grabber Green ZX3
2.0L Zetec-stock internals
MTX-75 transmission
Exedy stage 2, 4 puck clutch
Massive Speed System lower transmission mount
Engine Mods
FSWERKS Zetec turbo kit-Currently set at 12psi, 91 octane
Tuned by Raffi at
FSWERKS
Garret GT28 journal bearing turbo-.86 AR hot side
FSWERKS DV20 diverter valve
Mandrel Exhaust Systems 2.25 Flex pipe
and 2.5 inch exhaust with magnaflow muffler
Motorcraft AZFS22C spark plugs-1 step colder
FSWERKS 8mm spark plug wires-yellow
Suspension/Brakes/Wheels&Tires
Stock Suspension-new Monroe quick strut assemblies up front, new shocks in the rear
SVT brakes up front with 05 knuckles-Calipers painted yellow
05+ balljoints
Centric Rotors and Pads
Massive Speed System rear disc conversion kit-Calipers also painted yellow
Stock 16 inch wheels
205/50 Cooper CS4 touring all season tires
Interior
Innovate Motorsports MTX-L AFR gauge
Turbosmart E-boost Street EBC
Now on to the pictures!
Couple of days after I brought her home: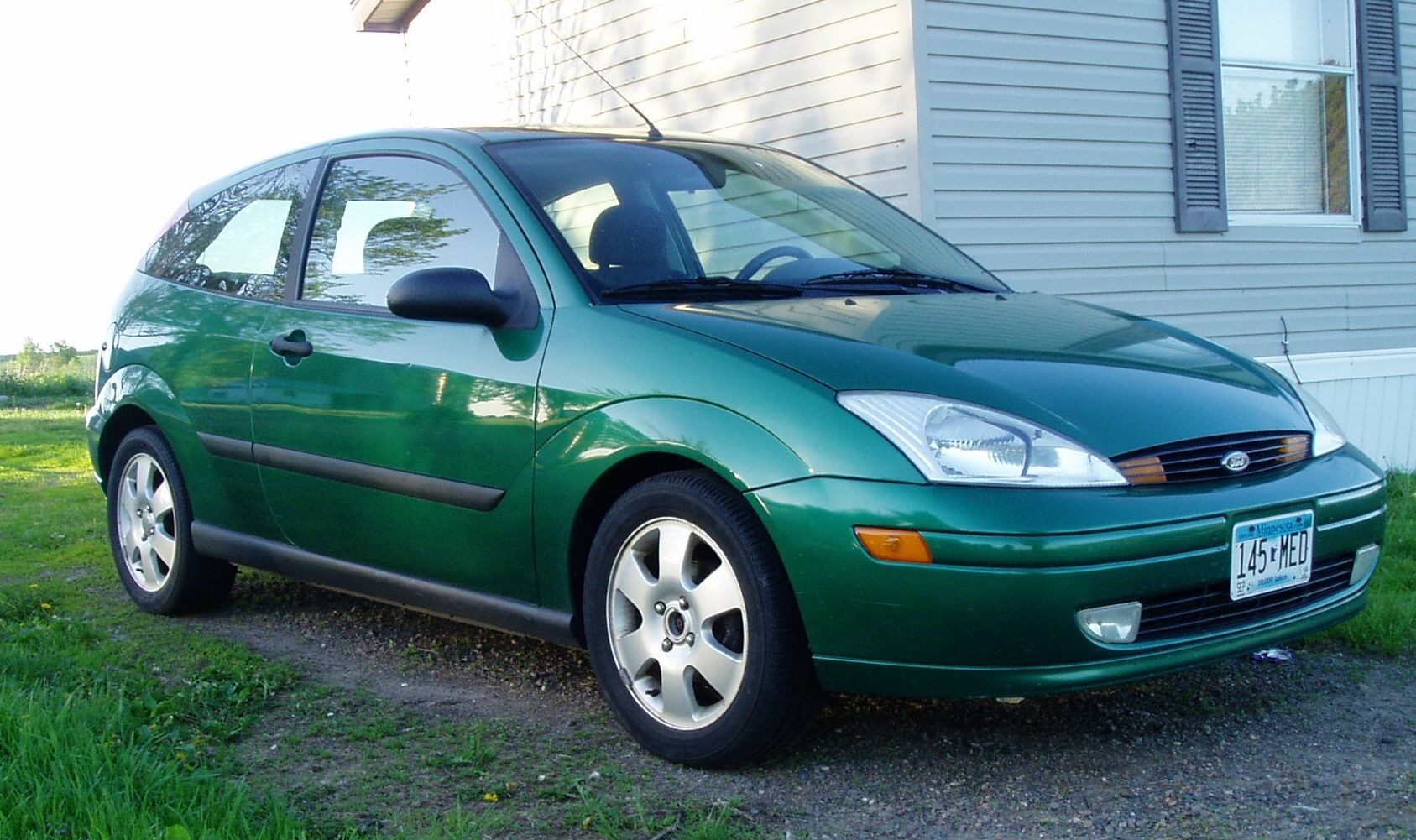 Notice the missing door handle.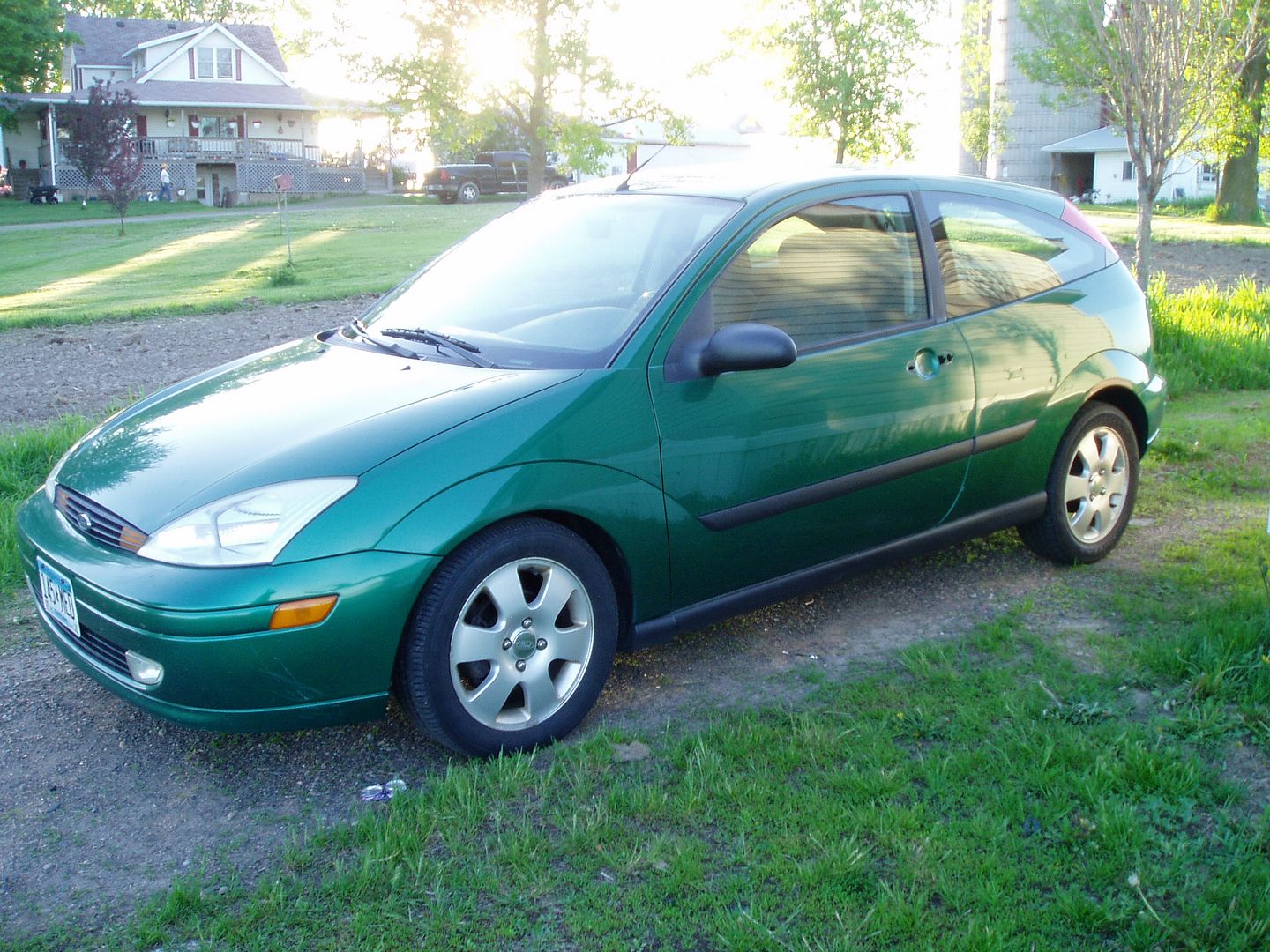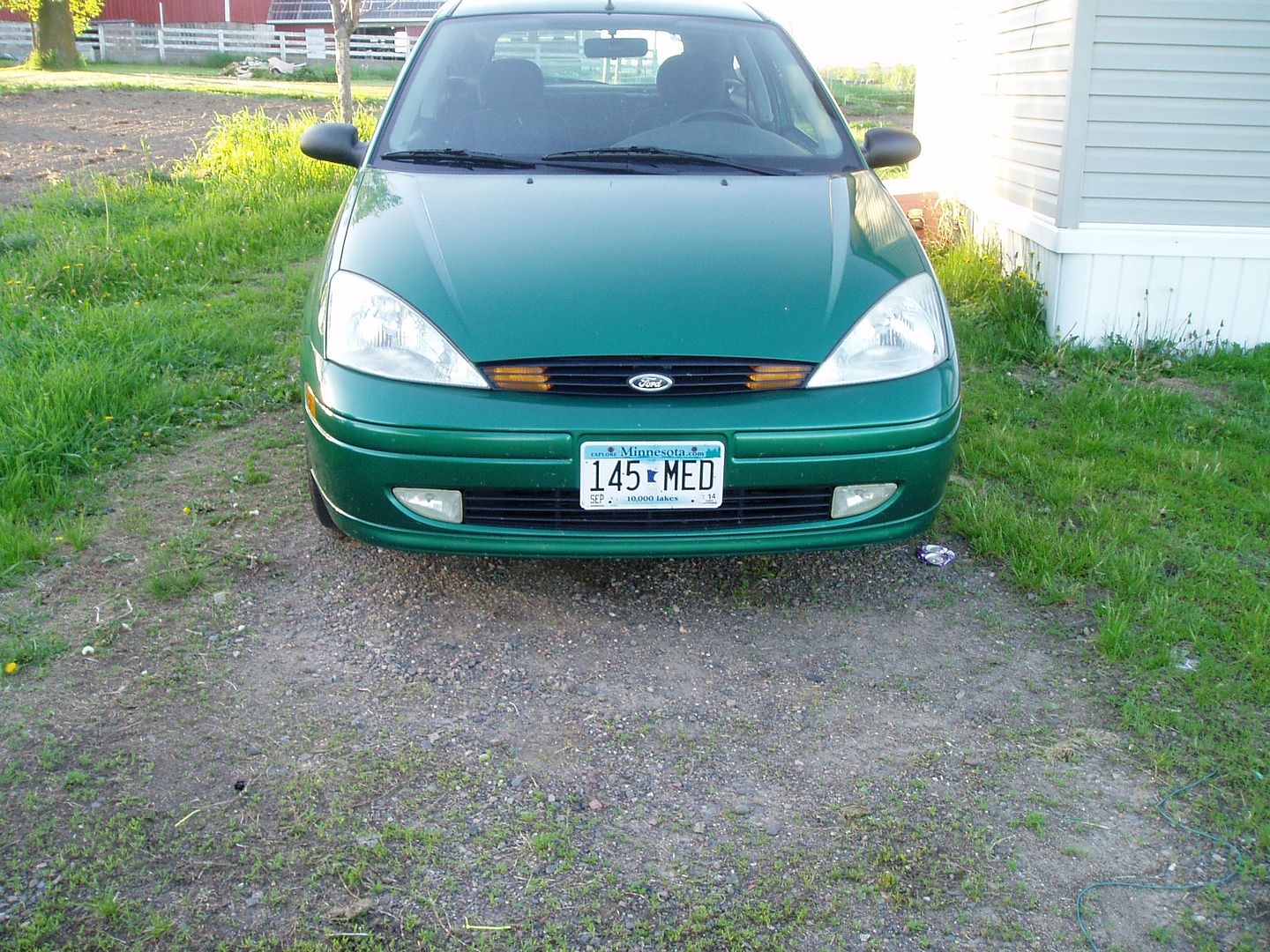 What the shifter used to look like:
Lovely piece of work wasn't it? :lol:
That didn't last very long. I bought a good used OEM shift boot from Matt Rowe at Speedway Recyclers and
found a stock silver shift nob on ebay. I think some young punk owned this car before the old Vet I bought
it from did.
The Result: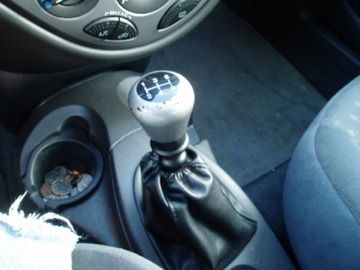 Much better!
Now some pictures of how the car currently is.
These were taken at our local park. I like how they look: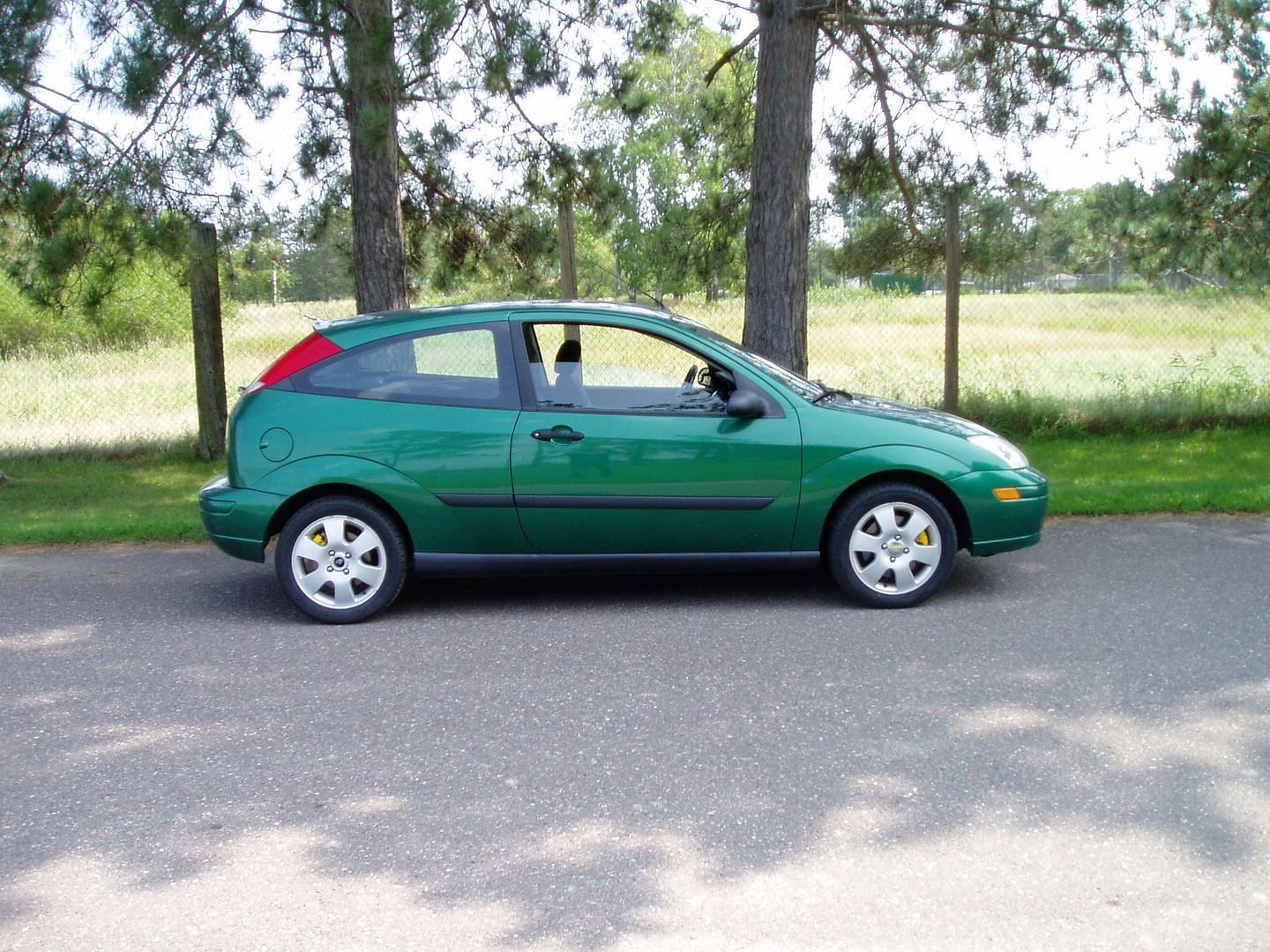 I really like how this picture turned out.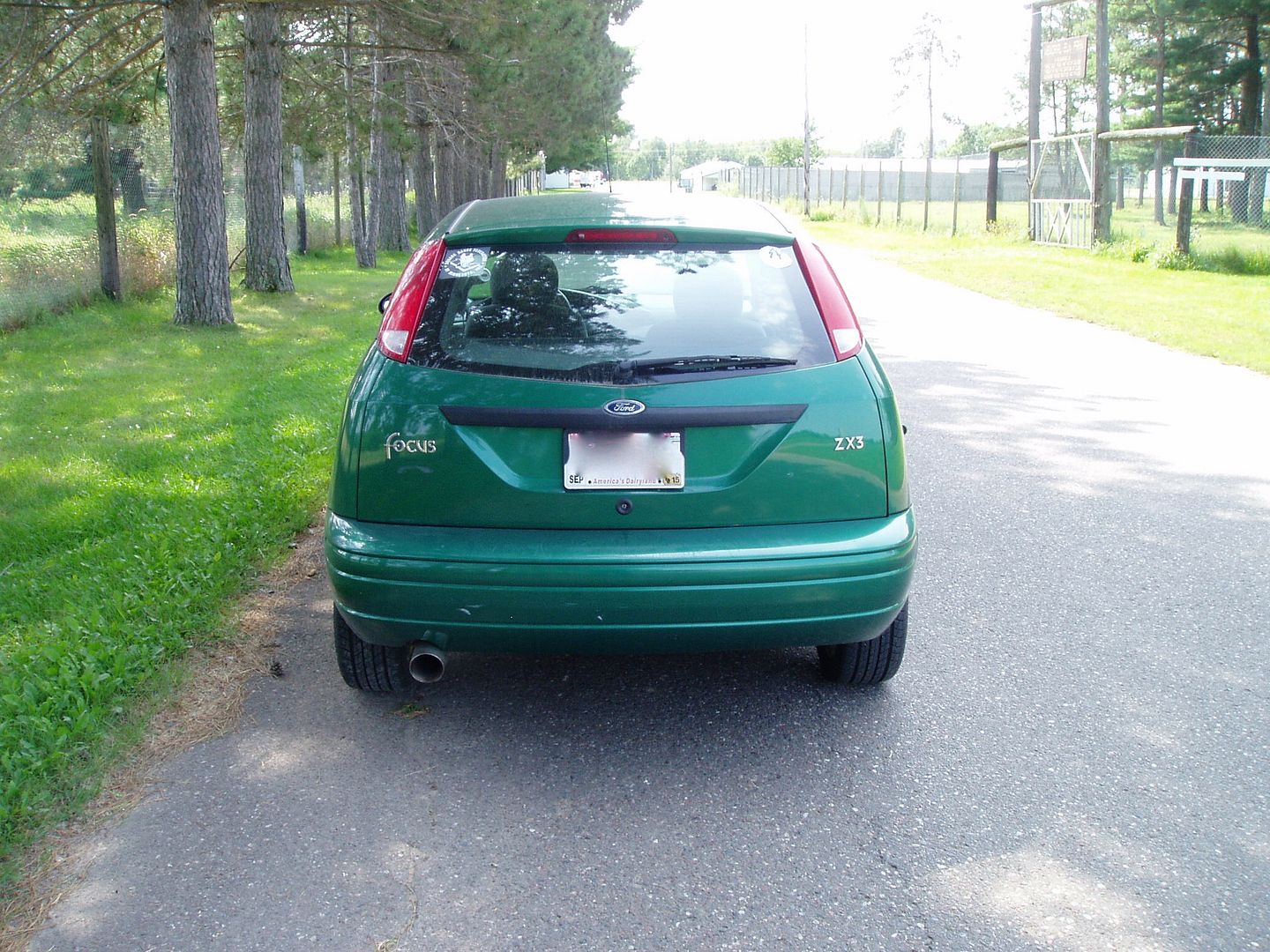 Turbo Kit: (Please excuse the dirtyish engine bay. Need to wash.
)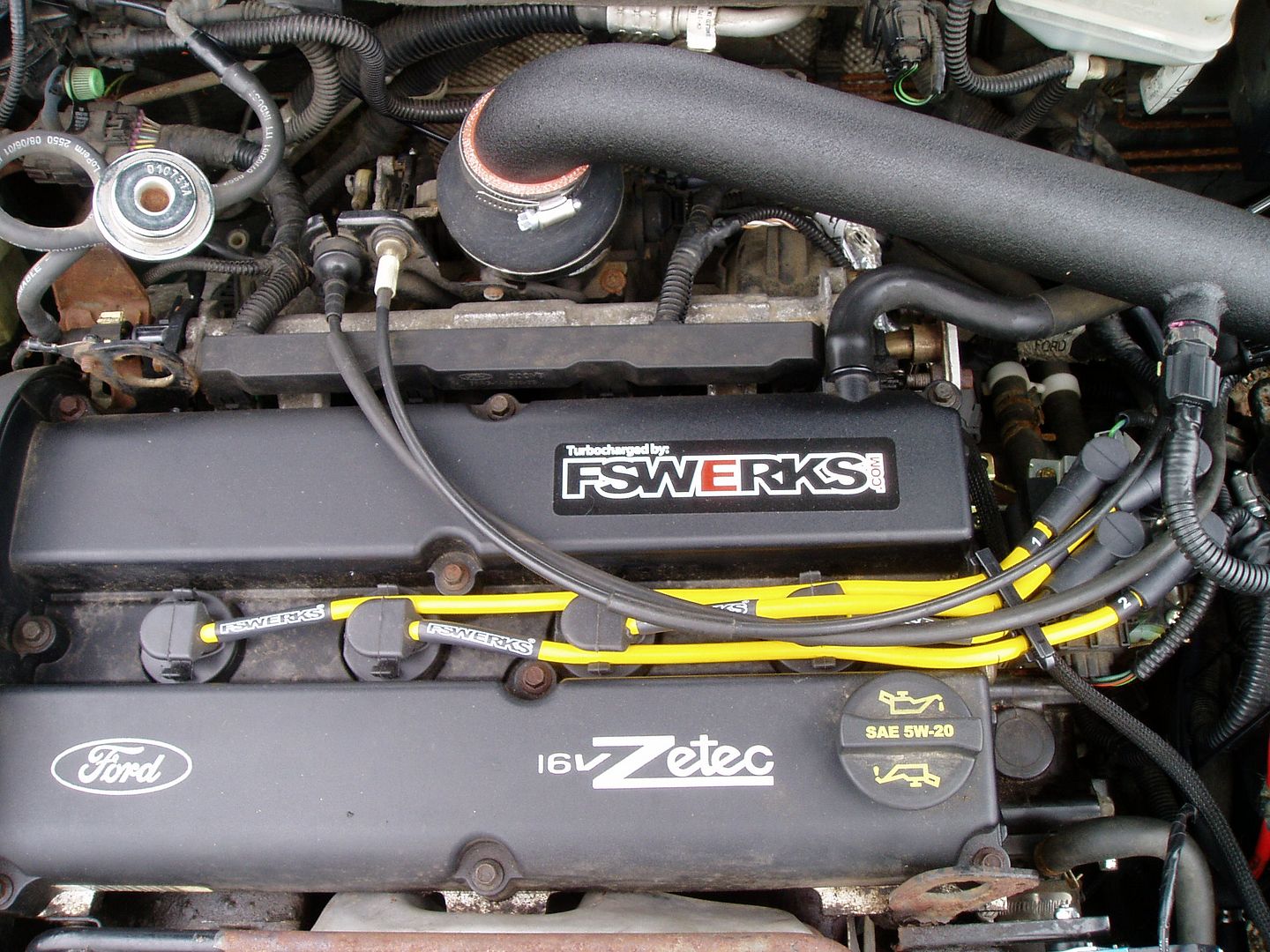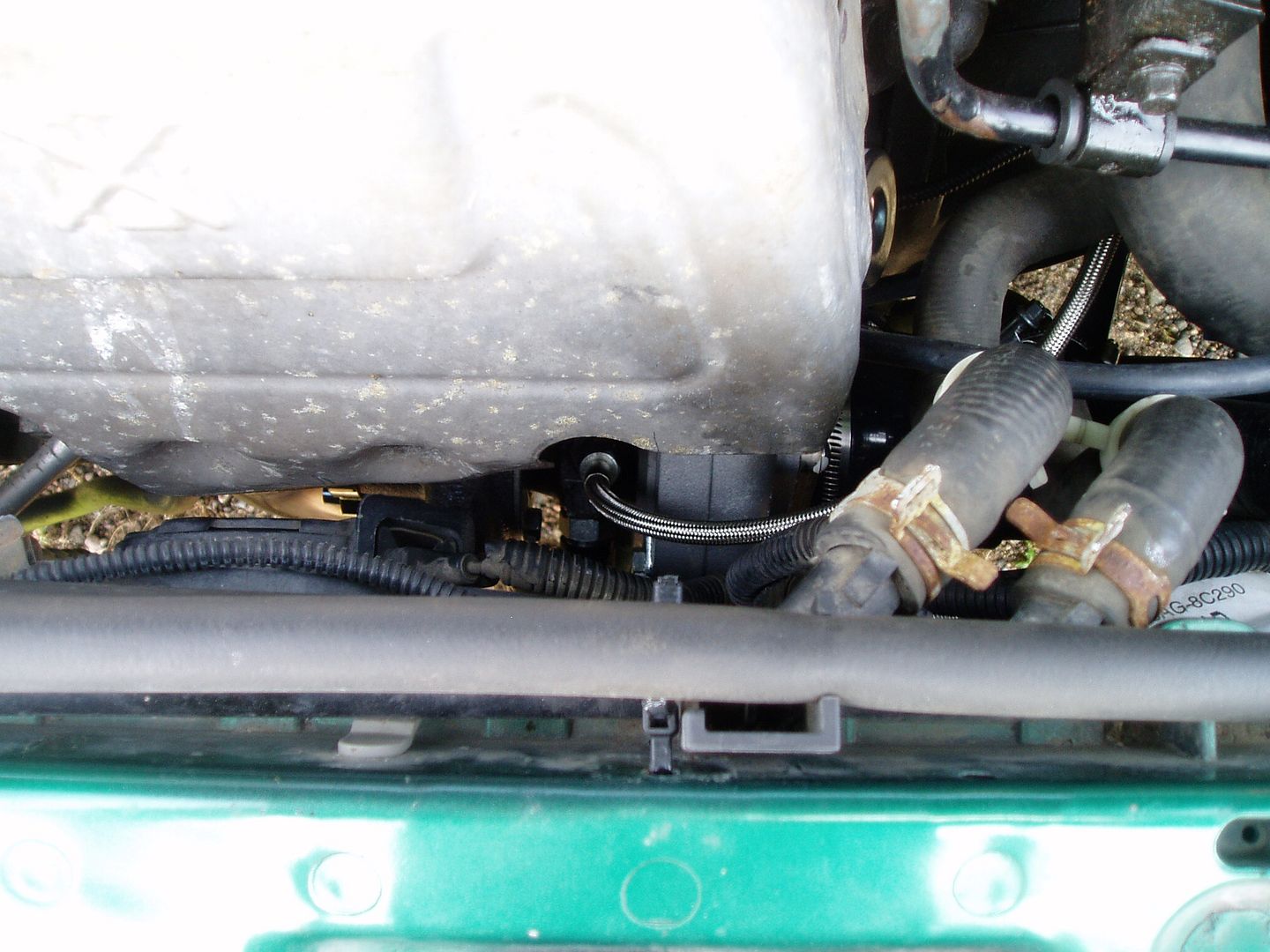 Old boost controller. Boost Valve generation 2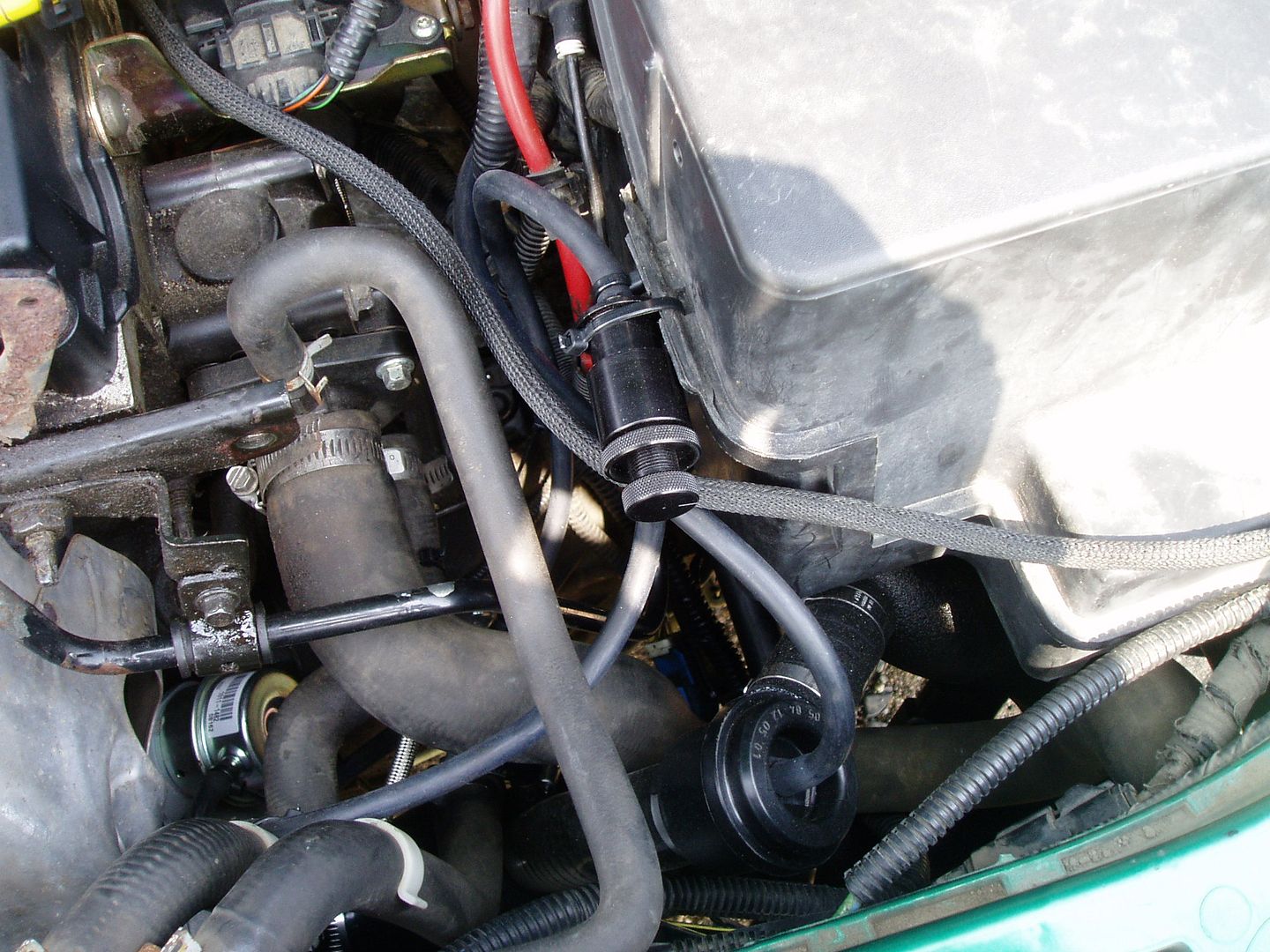 New boost controller. Turbosmart E-boost Street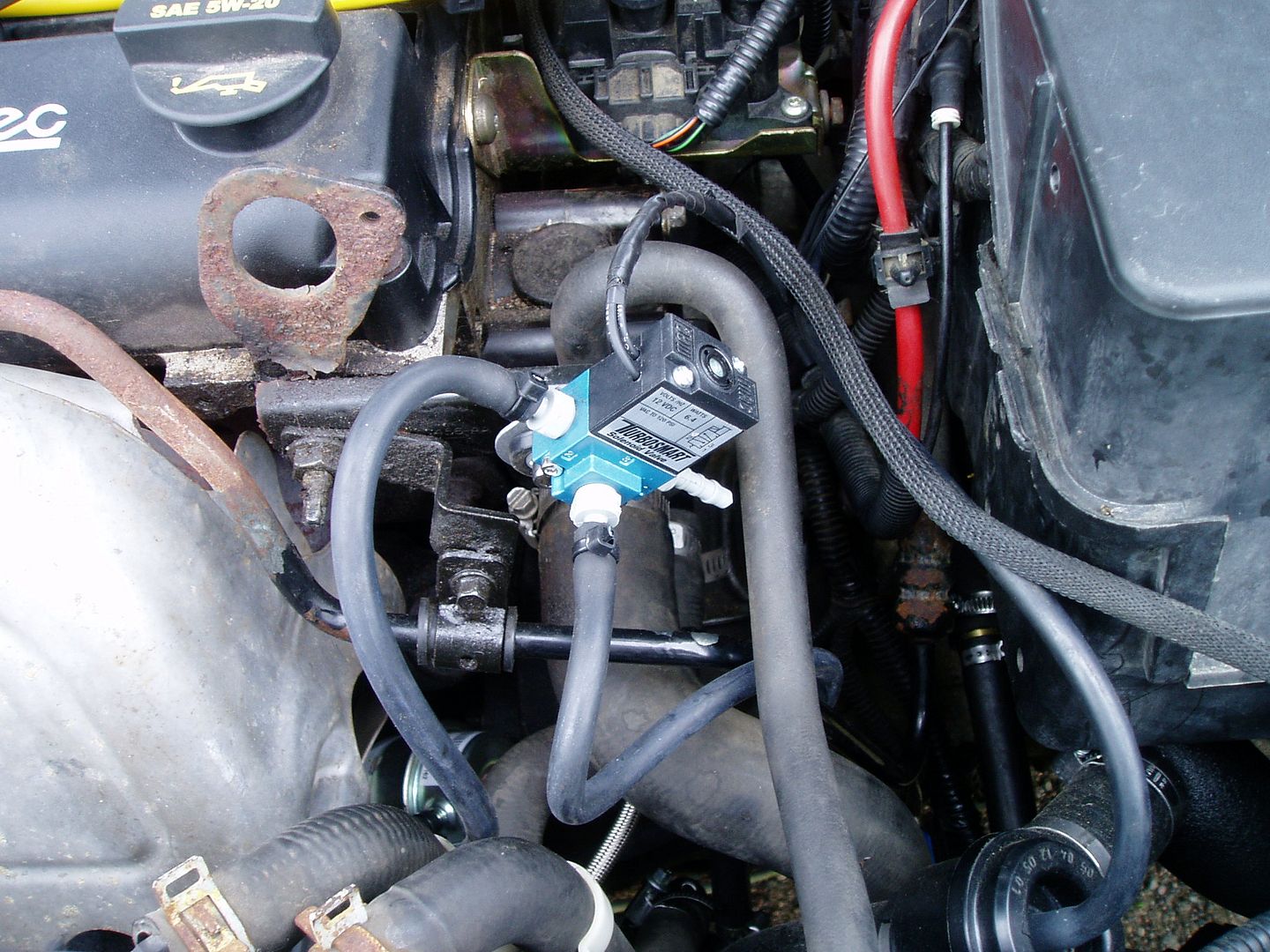 Intercooler. (And dirty bumper. Damn bugs!
)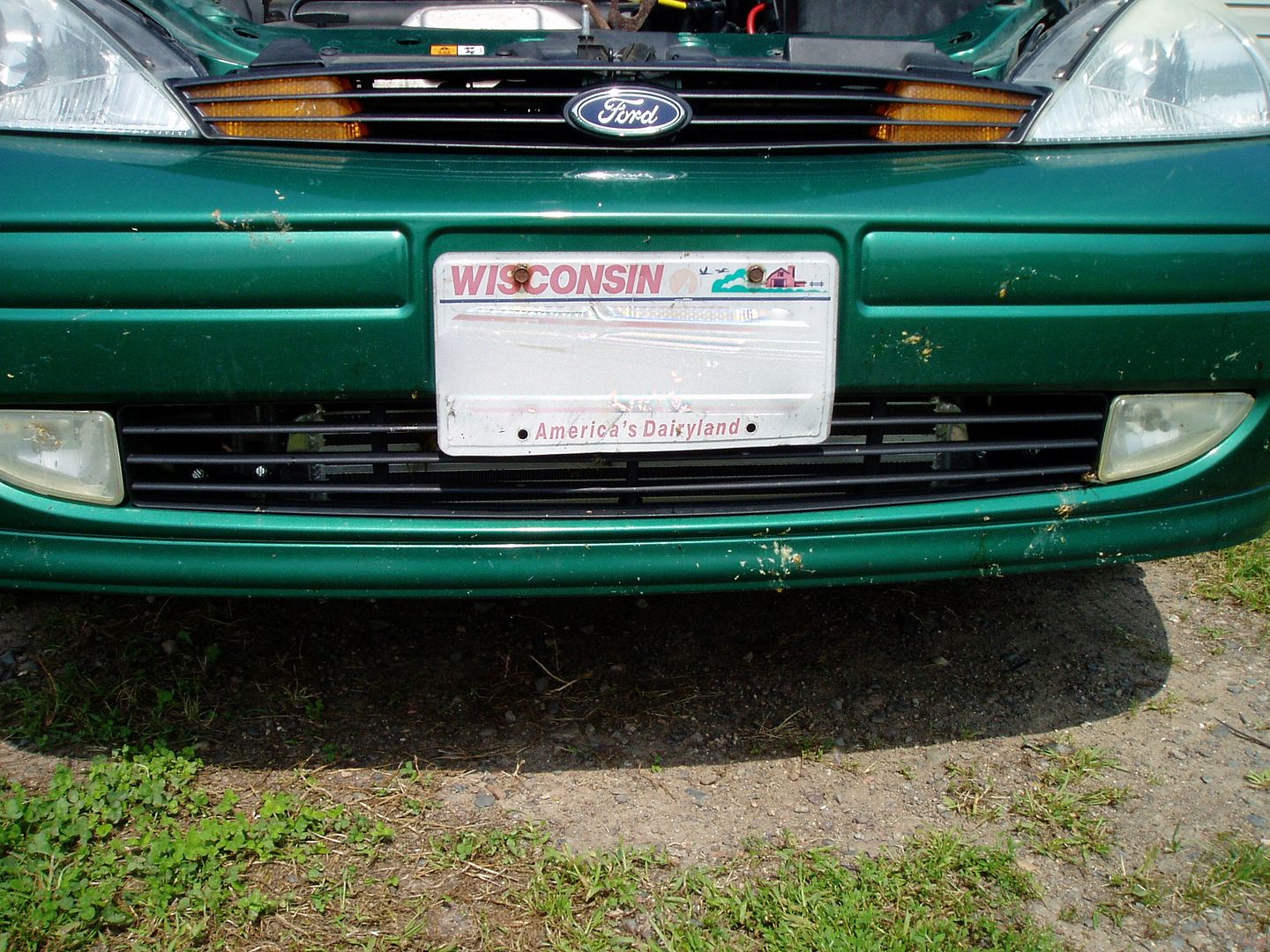 SVT front brakes
Massive rear disc conversion
My gauge setup.
This car is sooo flippin fun to drive now. She just pulls when you get into boost and sounds real angry when you do.
Raffi did an awesome job tuning her. Thanks again Raffi! :thumbup: I wrote a little review on his tune
here->
http://forums.focaljet.com/showthread.php/676529-Any-reviews-of-FS-Werks-custom-tunes-post-Randy?p=8086837#post8086837
so please go read it if you would like.
I'm done modding her for this year, but I'm not done with the car yet. Next year I'm looking at picking up an SVT
suspension kit, Massive rear camber and toe arms, some different wheels, probably in black, tires, and maybe
some different seats. I also plan on taking her to a body shop to fix some surface rust and so I can get rid of those
stupid plastic rocker "guards" or as I call them, RUST catchers. Plus it could use a sand down and repaint as the
paint has some scratches and rock chips (on the hood). You can tell it was daily driven, but it must not have been
in the winter because the underneath is remarkably clean. That most likely won't be next year, but some other time
down the road a bit. Will update as I progress. This car is a keeper. She will never be for sale, as long as I can still
drive stick shift. Hope you enjoyed my little post. Please comment, if you would like, and thanks for looking!