AS SEEN ON TV! You may have seen us recently post about our new rear brake and / or seen it recently on Xtreme 4x4's project rally focus.
http://www.powernationtv.com/episode/XO2015-05/automatic-to-manual
Anyways, we figured it would be wise to have an official release post about the whole thing. So here it is.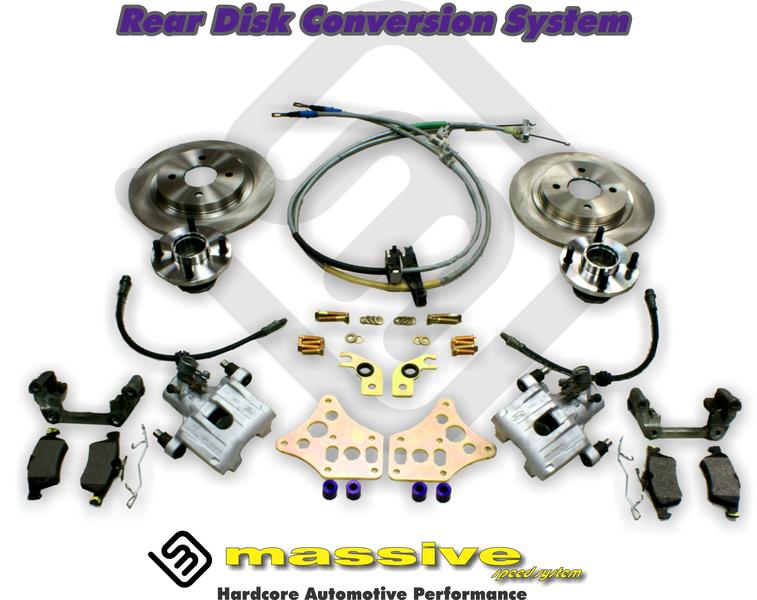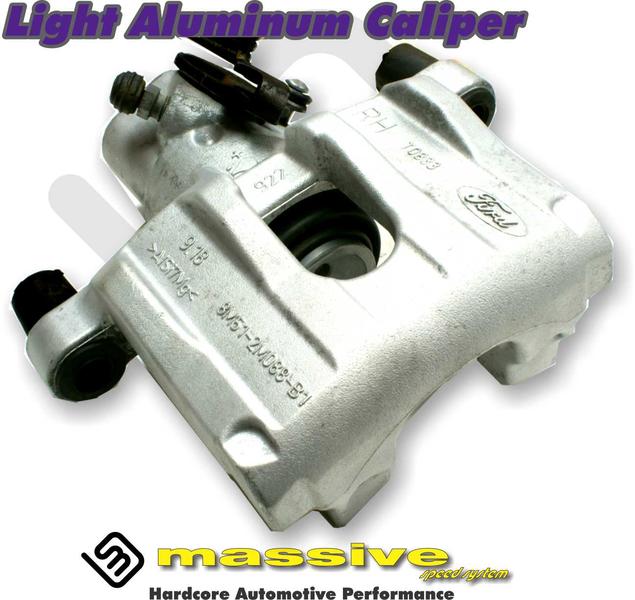 00-11 Foci owners have long lemented the pathetic rear drums that more than 90% of the cars came with. They are ugly, heavy and don't really aid in slowing the car down much at all. Swapping to discs off of other Foci has been possible, but the critical parts have vanished on the "new" market and have all but disappeared from the used world, and when they are available, are crusty relics that need lots of attention while still bringing tall money.
We simply were disgusted with drums on any of our vehicles, so we pondered and hypothesized for a while, and gave birth to our new Massive Rear Disk Conversion System.
The beauties of this kit are many:
Uses your existing, readily available drum spindle
ALL wear / consumable items are off the shelf items available at the local parts house or Ford dealer
By utilizing a lightweight ALUMINUM caliper, we manage to shave major unsprung weight off your rear suspension. Nearly 3 pounds versus an SVT, and almost 6 pounds versus your stock drums! PER SIDE!
Slightly larger piston vs SVT caliper provides more clamp. Larger pad gives more heat resistance while offering better wear resistance and longer life
BOLT ON. No cutting, welding or fabricating
Cost effective. By using many OEM sourced parts, we were able to keep costs right about where one would pay for a USED SVT kit that probably needs lots of new parts anyways. You'll most likely SAVE money vs buying a used kit and have better stuff when your done anyways
As of today, the below kits are for 00-08 Foci only (yes, 08, 1 year of the new body style). We will have a slightly different version for the 09-11 shortly.
We've got the kit in 3 distinct versions.
Base kit - Includes all necessary custom components to allow a rear disc conversion using otherwise "off the shelf" (not included) brake parts, but you source your own. Find your own rotors, calipers, pads, hoses, etc. Save big by purchasing used stuff, or go wild with extreme pads, rotors and hoses. CNC laser cut bracketry, zinc and yellow dichromate plated for long life. billet caliper spacers. All Grade 10.9 new fasteners. See link for info on parts.



Find it Here
[highlight]JUST $119.17[/HIGHLIGHT]


PRO System - PRO System - Complete with custom conversion parts AND all brake parts. OEM low mile aluminum "take off" calipers included. New hoses, pads, rotors, hubs, bearings and emergency brake cables. Aluminum large piston caliper CNC laser cut bracketry, zinc and yellow dichromate plated for long life. billet caliper spacers. All Grade 10.9 new fasteners.




Find it Here
[highlight]Just $459.97[/highlight]


PRO System NEW - PRO System - Complete with custom conversion parts AND all brake parts. Brand NEW aluminum calipers included. New hoses, pads, rotors, hubs, bearings and emergency brake cables. CNC laser cut bracketry, zinc and yellow dichromate plated for long life. billet caliper spacers. All Grade 10.9 new fasteners.



[highlight]Just $609.57[/highlight]
Find it Here