Discussion Starter
•
#1
•
As an introduction, some of you may know me from Facebook or back in the day when the Stance forum was active. My old focus was the black ZX5 with a few different sets of wheels on her. The last being the blue CR7s.
Build thread for that car is below, though she is long gone now.
forums.focaljet.com/showthread.php/676825-It-s-About-Time-I-Made-A-Build-Thread-(56k-look-away)
She has since been replaced with this turd.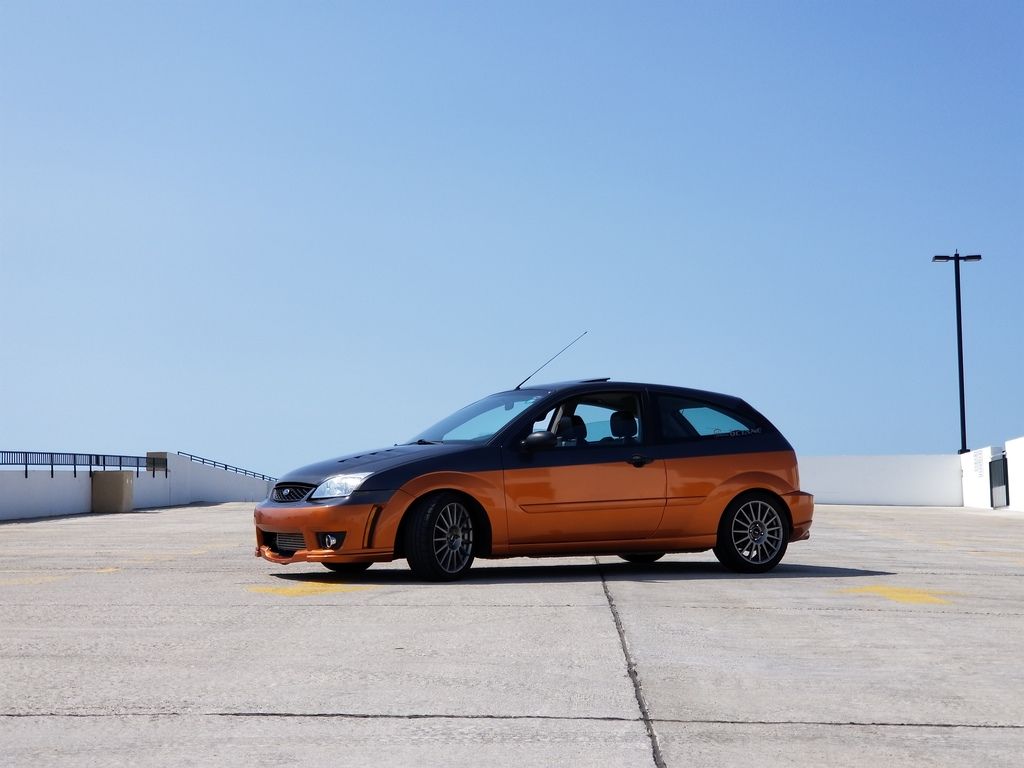 Some of you may know the previous owner as this was a "slightly" well known focus back in the day. I bought her as follows:
Ranger 2.3 swap with Eagle Rods, Supertech 9.8:1 pistons, and Eibach valve springs.
Cosworth I/M with FC throttle body
Cosworth 2.5" exhaust
Exedy 4 puck Stage 2 clutch
Torsen T2 diff
Eibach Sportlines on adjustable KYB shocks/struts
SVT brake swap front and rear
Steeda short throw
Poly bushings basically everywhere in the suspension
Massive adjustable endlinks
Eibach (I think) RSB
Poly engine mounts
And, of course, the main reason I jumped at the chance to buy - FSWerks Stage 2 turbo kit with a GT28RS
It was in extremely rough shape when I first got it home. The PO did not take good care of it at all, and it might as well have been held together with bubble gum and zip ties...seriously. If I had a dollar for every zip tie I took off this thing I would be rich right now. The first thing I had to replace was the starter, as it was a toss up on whether or not it would catch and start the car and I really didn't feel like destroying the flywheel. After that I started chasing down the electrical issues the car had. First on the list was to remove the hacked in turbo timer. The bottom tray beneath the radio was completely destroyed mounting the old timer, and the poorly soldered connections pulled right apart when I dug into it. As you can see below, they were garbage connections.
I also found the ground wire was just stuck beneath a steering column nut.
The car came gutted, with a half assembled center console that was digging into my arm. So I promptly removed that and threw in some solid shifter base bushings that I had laying around.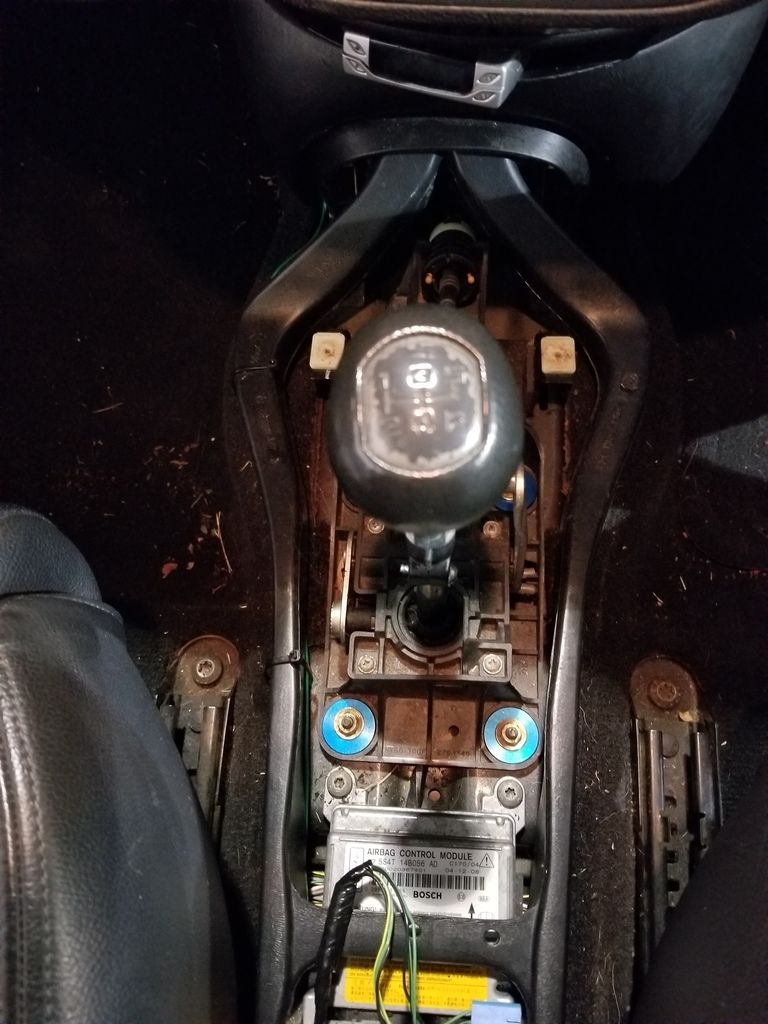 After this, I was having a problem starting the car. Supposedly the clutch safety switch was "bypassed." I quickly found another weekend warrior mod when I tracked down the connector and found a wire sticking out of one end like someone jumped the connector. I cut the connector and connected both ends of the wire to properly bypass the switch.
The next issue I don't even remember to be honest. It had something to do with boost control though, as I have this picture of this ancient boost controller. As you can see the ball used to control air flow is rusty. I'm sure it was a pressure holding problem.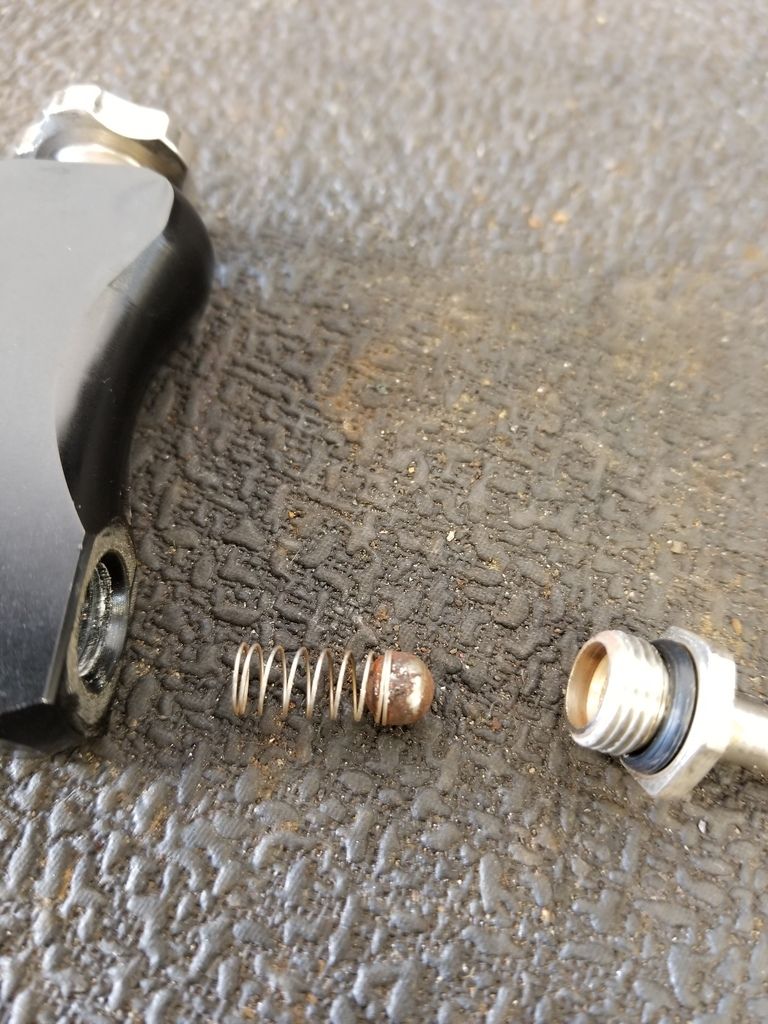 When I bought the car, I went into it knowing it had a massive oil leak, though I was not sure exactly from where. I ended up resealing the valve cover and oil pan. Using some mechanic detective work (lol) I came to the conclusion that the same garbage sealer that was used to seal the oil pan was probably used to seal the timing cover. I have yet to reseal the cover as I was thinking about putting cams in it and wanted to do everything at once, but have since changed my mind...
Another issue the car had, and still has, is the front passenger turn signal is inop. I put a bulb in it and nothing. Upon grabbing some wiring diagrams at work I came to the conclusion that it probably has a bad gem module as that is the only thing that would explain the weird things I was seeing with a test light following the diagram and comparing to the driver side connector with different light functions. TBH a turn signal not working isn't enough for me to care about putting a GEM in the car. Lol
I ended up sourcing an SAP grill since the PO said he lost it and didn't care about replacing it. IMO the bumper looks terrible without it since the grill holds up the lip through the center. See the comparison below: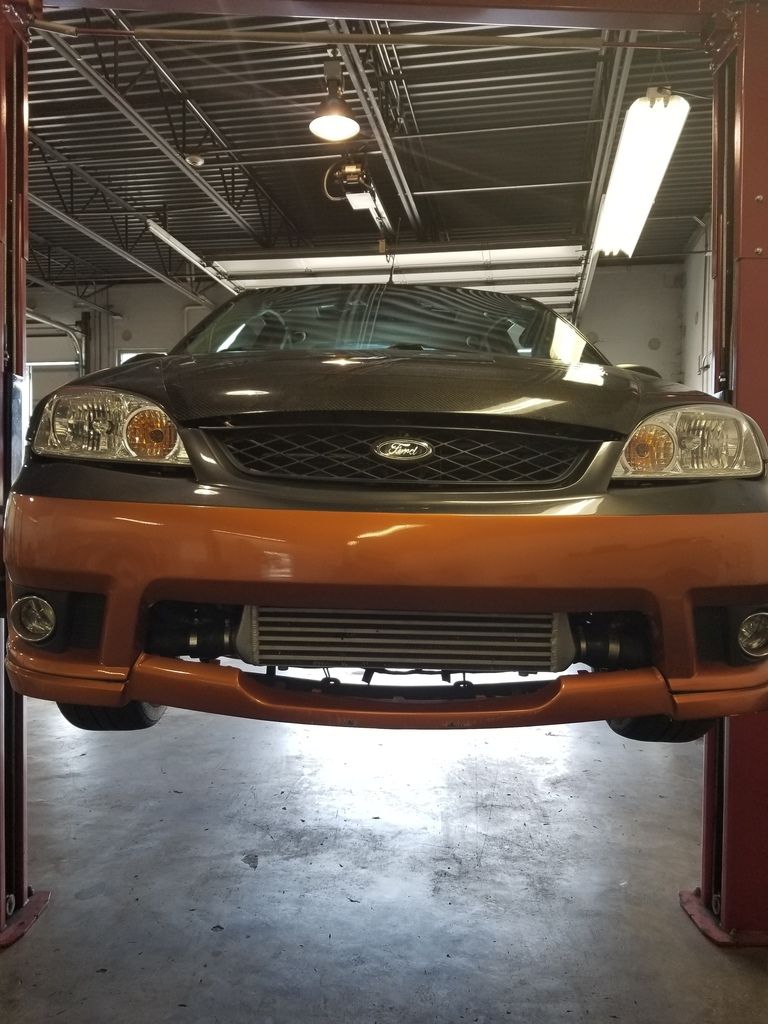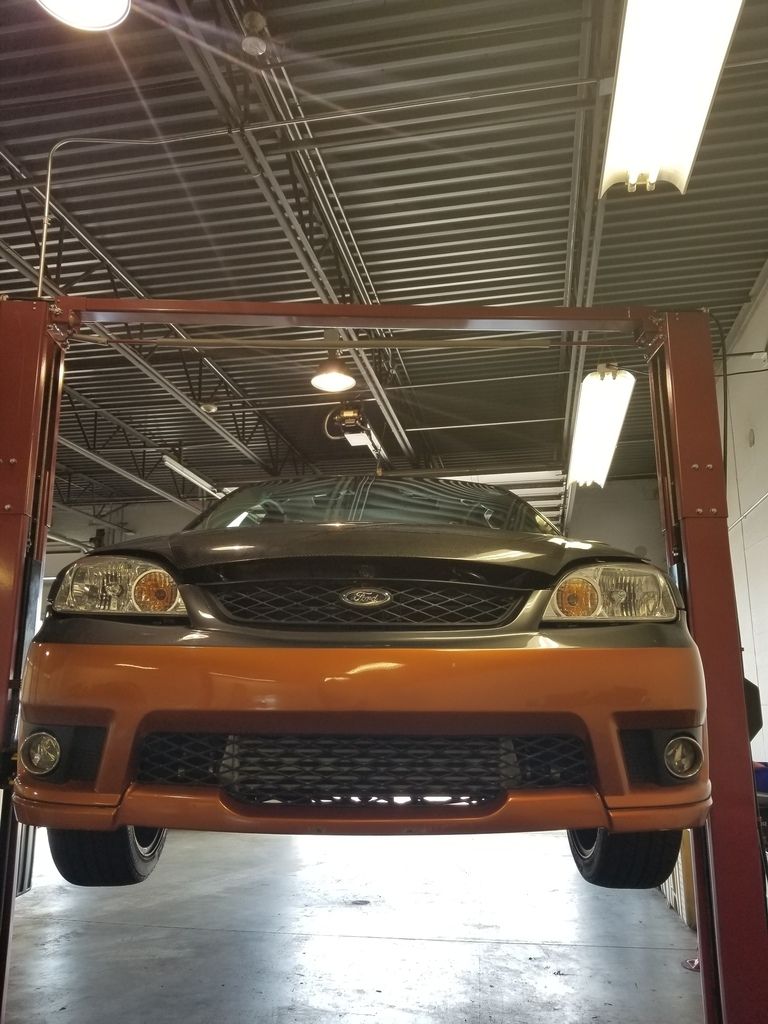 Then I threw her in a local car show fundraiser with some V8 friends of mine to have some fun.
On a rainy day I realized how stupid the location of the air filter was, so I did a little filter relocation and she loved it. No more water in the intake. I pulled the MAF out to clean it while I was moving the pipe and my god was she dirty. One of the bolts ended up breaking off too.
On top of everything I had already taken care of, the passenger side wheel was ready to fall off because someone left the axle nut loose. So it got a new hub and bearing on that side. Also needed a ball joint on that side. She came to me on 10psi, I put the bigger wastegate actuator on and had her anywhere from 12 to 18 psi. One fine evening I was leaving the store with my girlfriend, who proceeded to gas it next to me. Who would I be if I didn't give her some right back? Lol unfortunately when I shifted from second to third the infamous throttle body shaft decided that was a good time to snap on me. Ended up getting stranded and had to have her towed. One of my buddies just happened to be driving by and stopped to make sure I was good to go.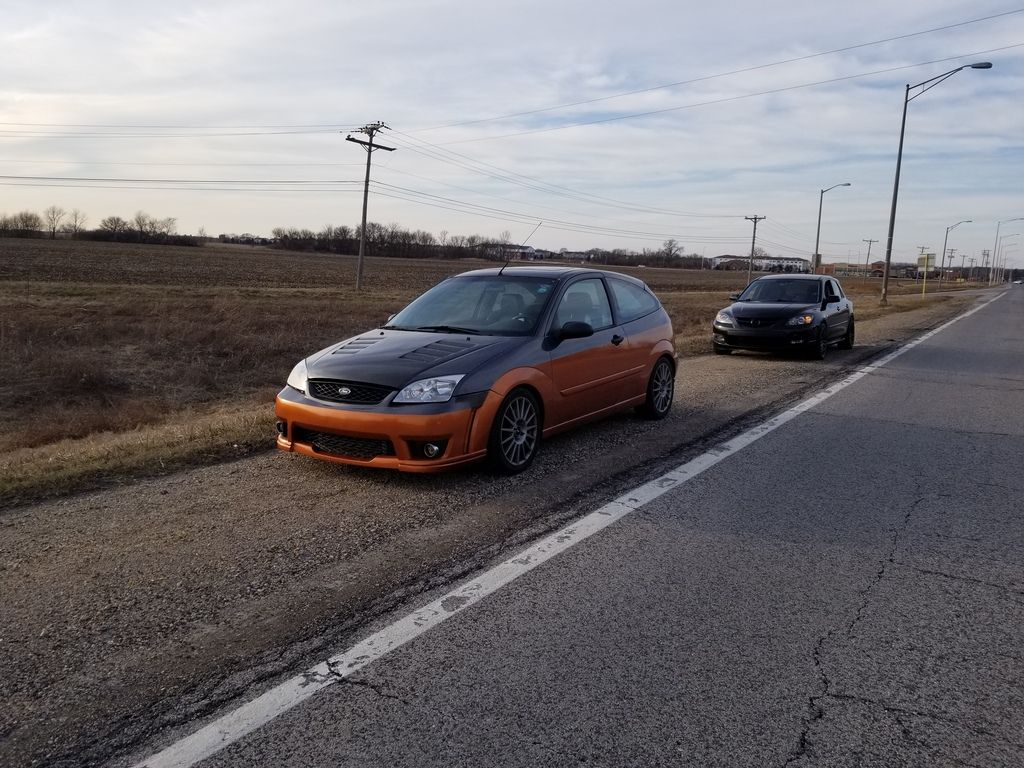 I had CFM overnight a new throttle body to me as this thing is my daily. As usual they got me back on the road asap with a super nice piece...though they do look pretty similar to each other...
After all that shenanigans I ended up driving her all winter, and besides the oil leak she drove pretty good.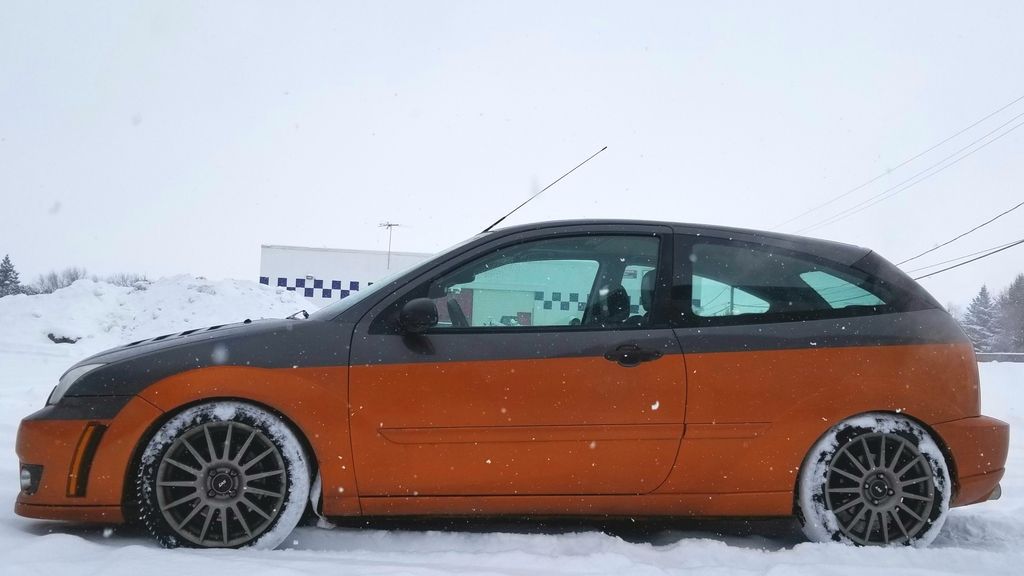 Bonus pic with the puppy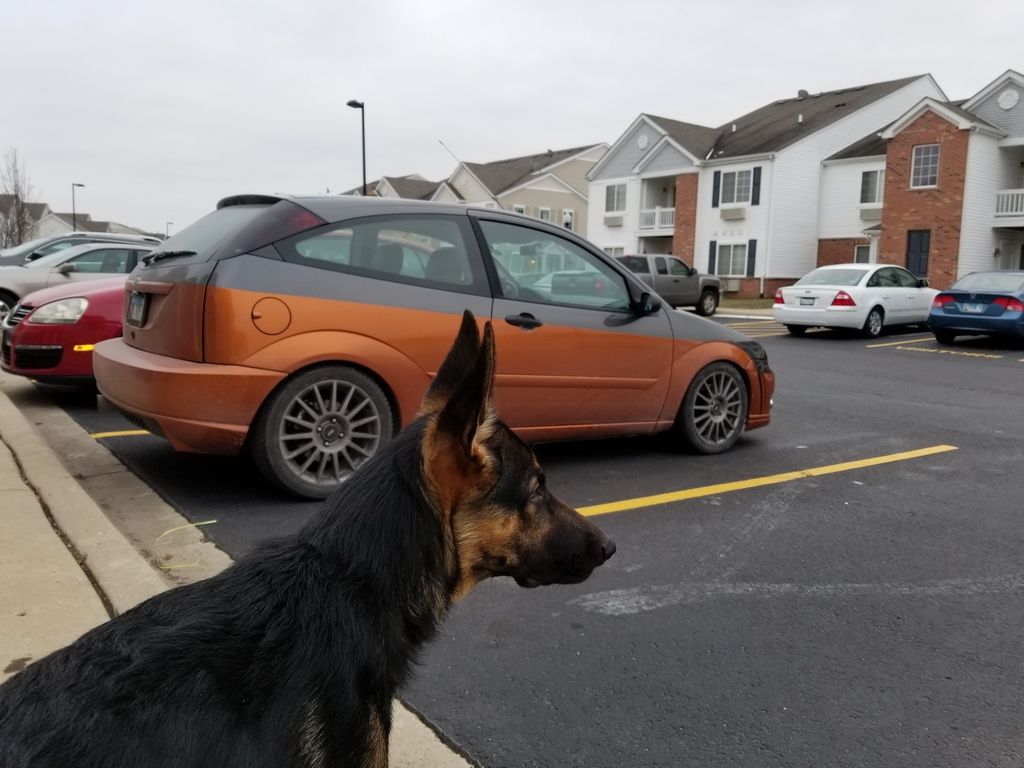 Fast forward to Spring 2018 and I am really getting tired of barely moving 30 #/min. I came from a 550+ whp DSM that moved over 56 #/min, so naturally someting had to be done. I had plans to get the T3 manifold from FSWerks and do some custom plumbing, but then Chris over at Top Speed ended up listing a cheaper turbo kit they had in the works for sale. I was weary of the SPA turbo it included but I couldn't say no at the price we ended up at. I also bought a two piece intake manifold from him off the race car. The fuel pump is an E85 Walbro 450 that came out of my sheclipse. I was debating going return fuel, but for now I am happy with where she is.
Chris told me he was going to make a new MAF tube for me to better fit the manifold I had purchased from him. Per Top Speed's usual customer service it ended up taking a month to get the kit to me. Upon opening the box, I noticed that not only did it not include oil lines as I was told, but there were no clamps, couplers and I was shorted an air fitting for the wastegate. So there goes $500 on top of what I paid him for the kit. It's always the little stuff that piles up in turbo builds. Once everything came to me I was ecstatic and could not wait to get the kit on.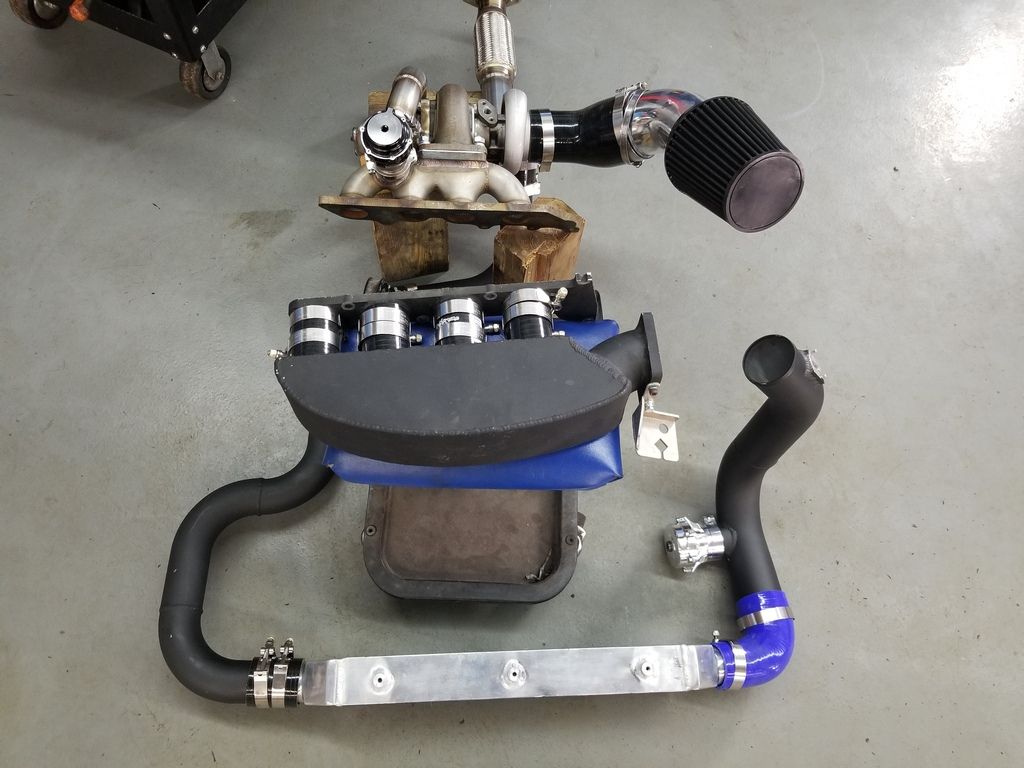 Lucky me my boss was taking a weekend trip with the fam and I had the shop to myself Fri-Sun. So I ended up taking all day Friday to install everything. Literally. I was there at 8am and didn't get home until just after 8pm. The fitment issues I ran into with the intake manifold really screwed me, but when everything was installed and I turned the key and she fired up on the FSWerks tune I was PUMPED. Oh...and I might have gotten a killer deal on some 245/40s to put on the 17x8 Advanti I traded the CR7s for........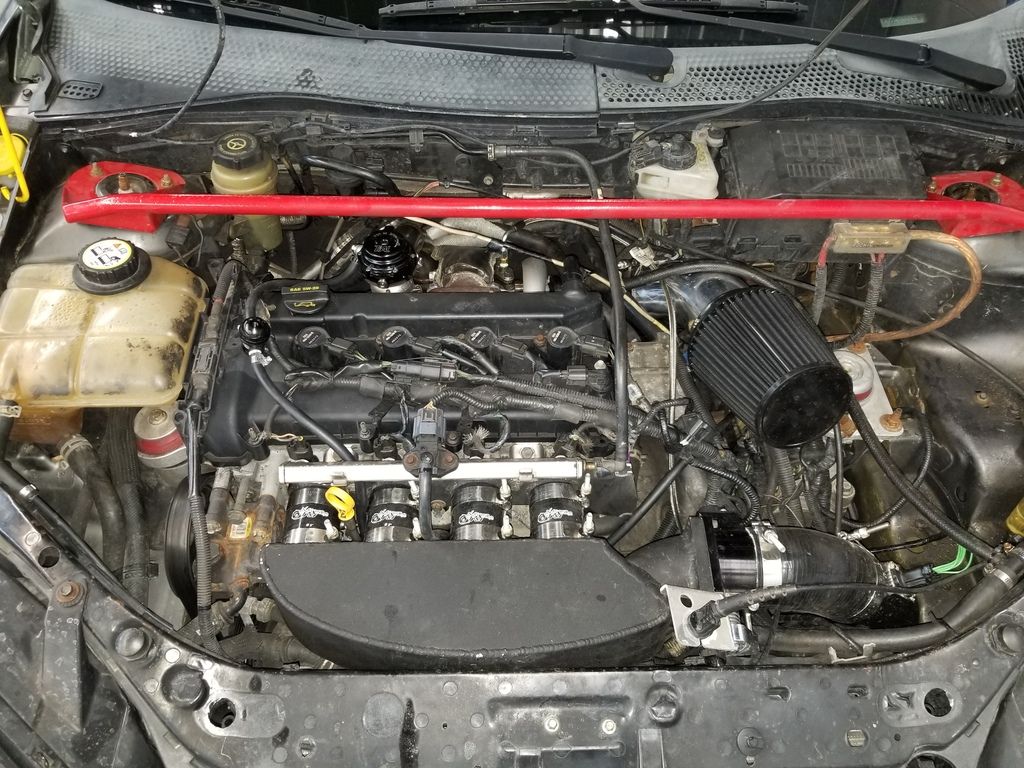 Don't mind the dirty bay...when I update the CCV setup the PO installed I'll clean it up a bit and probably throw another 45* pipe on the intake to push it away from the engine a bit. For the next week after I got the kit on I ran into nothing but problems while tuning. For some reason the PCM would not read open loop. I started over like 4 times and every single time closed loop was perfect. As soon as I would go wide open it would stay closed loop and not deliver any extra fuel, which is no bueno. I also noticed I was reading 750 counts on the stock MAF at part throttle. Big shout out to the Sporadic focus build, I copied him and picked up some ID1000s and a BA5000 MAF from SCT.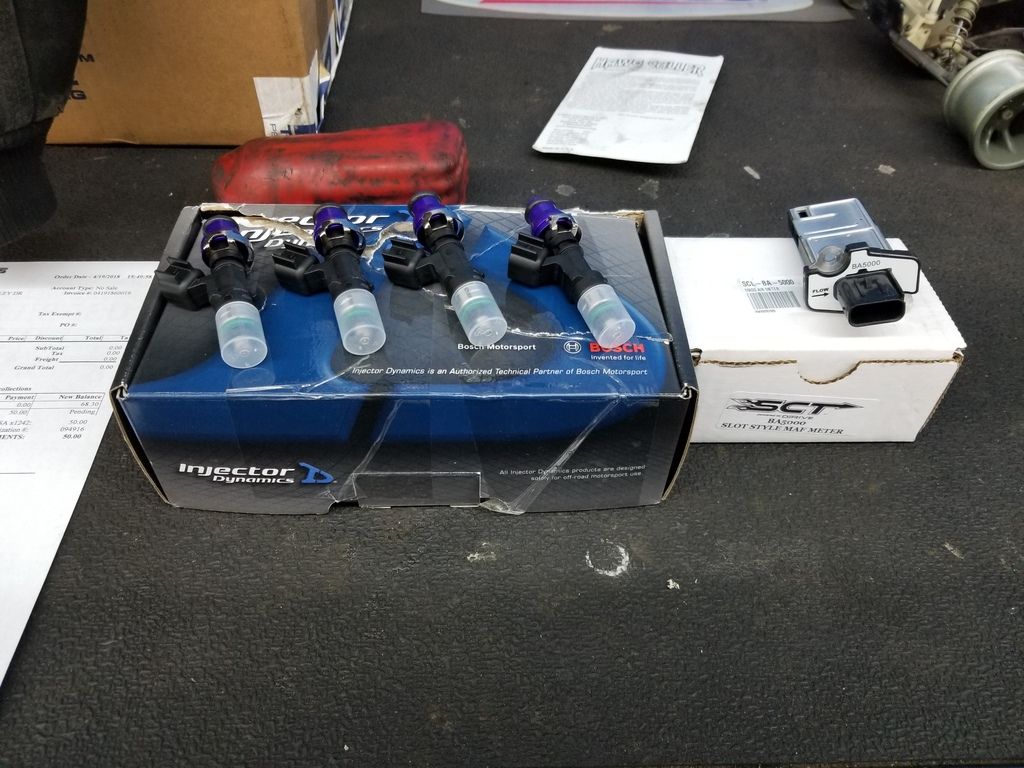 Magically the first tune I wrote after install of the new injectors and mass air she went open loop and my STFT showed my commanded lambda. I couldn't have been happier. I spent the entire weekend fine tuning closed loop and adjusting the MAF Transfer Function for open loop. On 12 psi she was moving 34 #/min. On 12 freaking psi. Turned it up to 15 and while the average was 37 #/min, she did read 39 at one point. No more falling off like the GT28RS did, this little SPA turbo holds power all the way to redline. She is a completely different animal and I love it.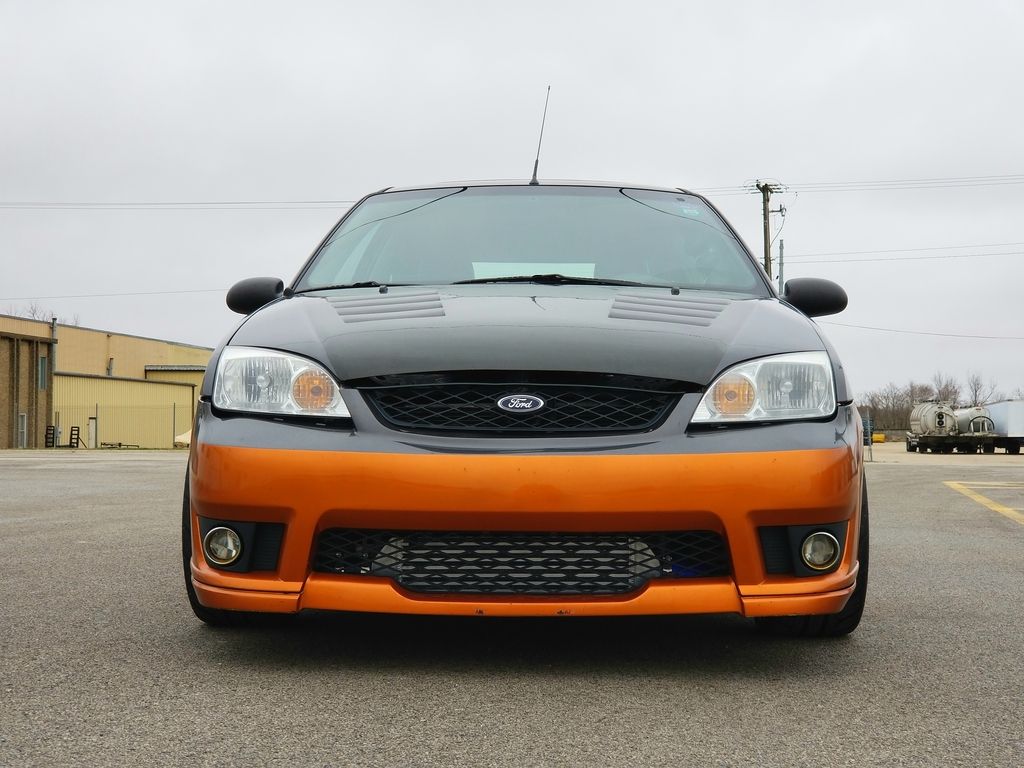 Looks so mean with the 245s!! As you can see there is no exhaust tip. I sold the Cosworth exhaust (and all the old parts actually) and ended up picking up a 3" exhaust for stupid cheap. The muffler didn't fit so I just cut it off. Sometime soon when I recoup some cash I will either have a new exhaust made or just have a muffler welded on the end. That is yet to be determined.
I have an SVT center console on the way from the buyer of the old turbo kit and intake manifold, and this weekend I am swapping the Eibach suspension for some low mileage Tein coilovers. It will be so nice to be on coils again. Thanks for reading such a long winded post! As a member of the forum from back when it was active I will be posting updates as they happen.